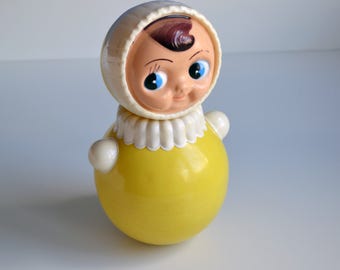 Hello you fun, cute little person. Hello outside world that expects me to be totally functional. Hello sleep ..... NOPE ONLY
KIDDING
! Give it another couple of months and almost all of us will be
getting

a vaguely acceptable level of shut-eye. Some of you will already, just don't shout about it.
Having been on the 'outside' for an entire 20 weeks now the little human is mastering things at a rapid rate. Sitting is becoming an art as it wobbles about like a
weeble only with a significantly lower success rate at making it back to the vertical. Putting their little pins out in a v shape gives them better stability. Around now is when I like to introduce the affectionately coined 'circle of neglect' or the 'baby bouncer'. Ours, the Jumperoo to be exact, makes everyone happy. The increasingly curious and mobile bambino gets freedom to explore, move and bounce within the confines of a vivid plastic rainforest whilst mama and papa get the freedom to actually pee alone or hang the washing out without their koala. Multiple WINNER.
Weaning lies just around the corner but if there is grouchiness, sleeplessness, a massive interest in your food, your baby was overdue, is big etcetc.... then it might be worth introducing first tastes early but always check with the Health Visitor or another figure of baby health authority. I certainly wouldn't be in any rush to start weaning for the sake of it and by leaving it until the recommended 6 months, you will find the little one whizzes through the rice, root veg and mush to actual food much quicker.
If you haven't already it might be worth considering a night out with papa and/or friends. Don't force yourself if you don't feel up for it but just an hour or two away from it all does wonders for the soul.